SAVE THE DATE: THE ASA OPEN RETURNS ON JUNE 5TH, 2023!
We are excited to announce the third annual ASA Open on Monday, June 5th, 2023!
The tournament will take place at Waverly Woods Golf Club in Marriottsville, MD.
Join us for a day on the links full of food, drinks, contests, prizes, and more to support the Athletes Serving Athletes Wingman Program.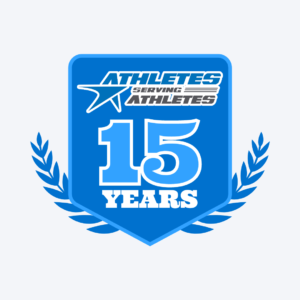 Date: Monday, June 5th, 2023
7:00 AM: Check-In & Driving Range Open
8:00 AM: Welcoming Remarks, Announcements, Rules
8:15 AM: Players Drive Carts to Starting Holes
8:30 AM: Shotgun Start, Play Begins
1:30 PM: Play Ends, Snacks & Awards Commence
Lite breakfast & coffee upon arrival
Golf cart  (2 golfers/cart. Clear vinyl dividers are available upon request to the first 20.)
Beverage carts will drive around the course with free beer, soda, water, and Gatorade.
Box lunch (delivered to you on the course)
Prizes will be issued to Teams & Hole Contest winners.
Random raffle drawings will be held throughout the day for all participants.
15TH ANNIVERSARY CORPORATE TEAM PACKAGE
$1,500 | Pre-Sale: Open NOW— 3/20
Registration Deadline: 5/29
Includes foursome registration, hole sponsorship, 1 social media shout-out, and all players on the team will receive an ASA tumbler.
$1,000 | Registration Opens: 3/21
Registration Deadline: 5/29
The 2022 ASA OPEN IS SOLD OUT!
ADDITIONAL INFORMATION & RULES
ASA Merchandise will be available for purchase on-site via cash or card.
Proper golf attire requested. No metal spikes allowed.
MULLIGANS & 50/50 TICKETS
1 for $5 | 3 for $10 | 6 for $20
Available for pre-purchase or on-site purchase. Mulligans are limited to 6 per team.
Available for pre-purchase or on-site purchase. Use the Hot Shot Air-Powered Ball Launcher to propel your drive up to 350+ yards on the 10th Hole! Pick up the pace of play and leave yourself just a short iron or wedge shot to the green.
On-site cash purchase only. Roll the dice to give your entire team a chance to tee off closer to the 18th hole! Limited to one roll per team…unless you can successfully bribe your volunteer to allow you to roll again!
$50 PRO PACK
Get 6 Mulligans, 6 50/50 Tickets, and 1 Hot Shot Pass for your whole team! (Only available for pre-purchase. Additional Hot-Shot Passes can be pre-purchased online or on-site.)
(Included with your registration)
Men | Hole 15
Ladies | Hole 5
Men | Hole 9
Ladies | Hole 14
50/50 Cash Drawing (Ticket Purchase Necessary)
Raffle Prizes (No Ticket Purchase Necessary)

ASA's mission is to elevate the quality of life for individuals with limited mobility by empowering them to train for and participate in mainstream running events. We are a champion of inclusion, connecting ASA Athletes to runners from the community through our Wingman Program, inspiring all to celebrate the spirit of "Together We Finish!" Through tremendous community support and investment, ASA provides The Wingman Program free of charge to the ASA Athletes and families we serve.
SPONSORSHIP OPPORTUNITIES
SPONSOR A HOLE
Showcase your company's information on one of the 18 holes throughout the course. All provided logos & imagery must be high-resolution. Cost: $350
15th Anniversary
CORPORATE TEAM Package
Receive admission to the the tournament for one foursome, hole sponsorship, one social media post on the Athletes Serving Athletes Channels, and each player will receive an ASA tumbler. Cost: $1,500
SPONSOR THE ASA OPEN
Showcase your company's information on Beer Carts, sponsor a Contest Hole, or seize the opportunity to become this year's Title Sponsor.
Admission for 1 Foursome
Signage on Tournament Carts
1 ASA Social Media Post
Admission for 1 Foursome
Signage at all 4 Contest Holes
1 ASA Social Media Post
Logo on ASA Newsletters, Website, & Annual Video
Admission for 1 Foursome
Signage at Check-In & Breakfast
2 ASA Social Media Posts
Logo on ASA Newsletters, Website, Annual Video, & Trailers