TOGETHER WE
FINISH!
FINISH!
FINISH!
We elevate the quality of life for individuals with limited mobility by empowering them to train for and participate in mainstream running events.
DONATE TO ASA TODAY
Help us empower Athletes living with limited mobility this holiday season.
THE ASA HOLIDAY SHOP IS
BACK!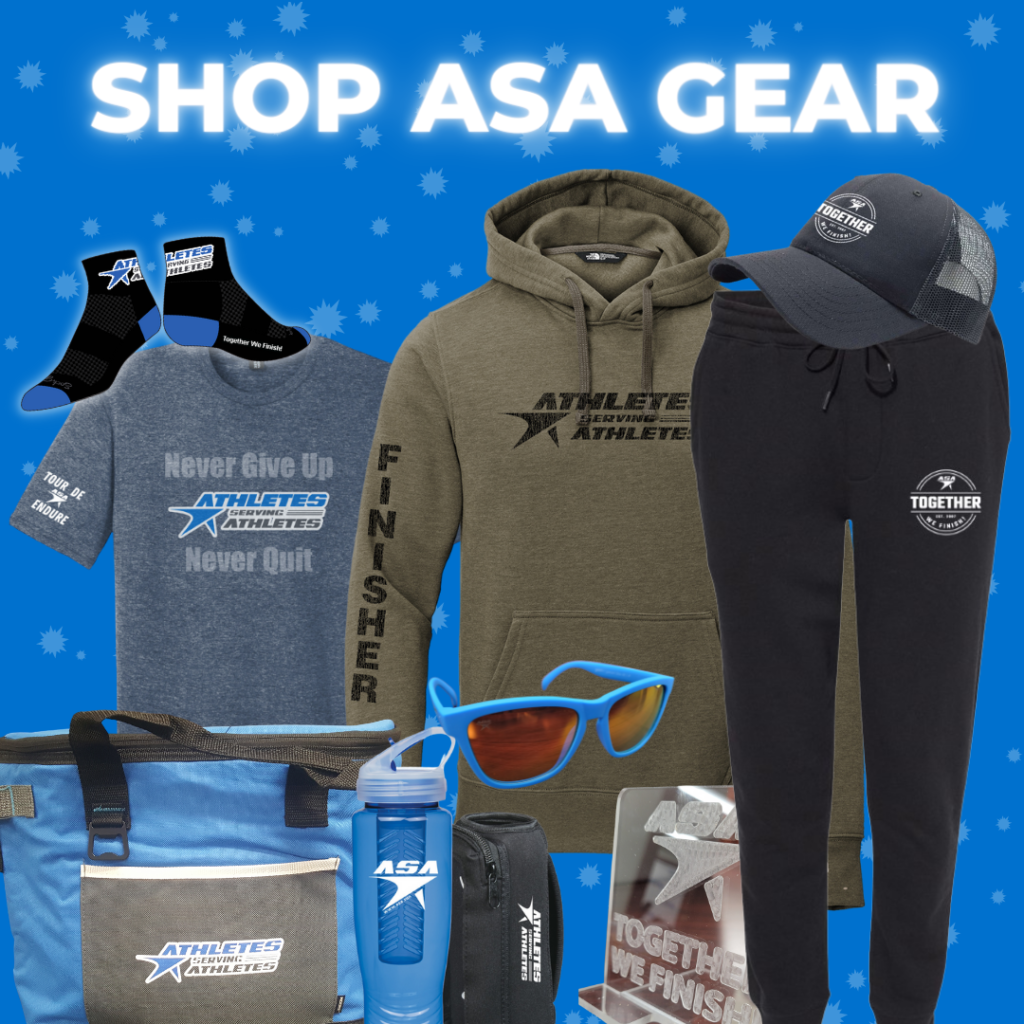 Shop online for your favorite ASA gear from Thursday 12/1 through Sunday 12/11!
Grab exclusive merchandise that's normally only available at a handful of in-person ASA events throughout the year. Hoodies, hats, bags, and more all make great gifts, and smaller items like sunglasses and socks are the perfect stocking stuffers!
Runfest 2023: celebrate asa's 15th anniversary!
SATURDAY, APRIL 22ND 2023; HUNT VALLEY, MD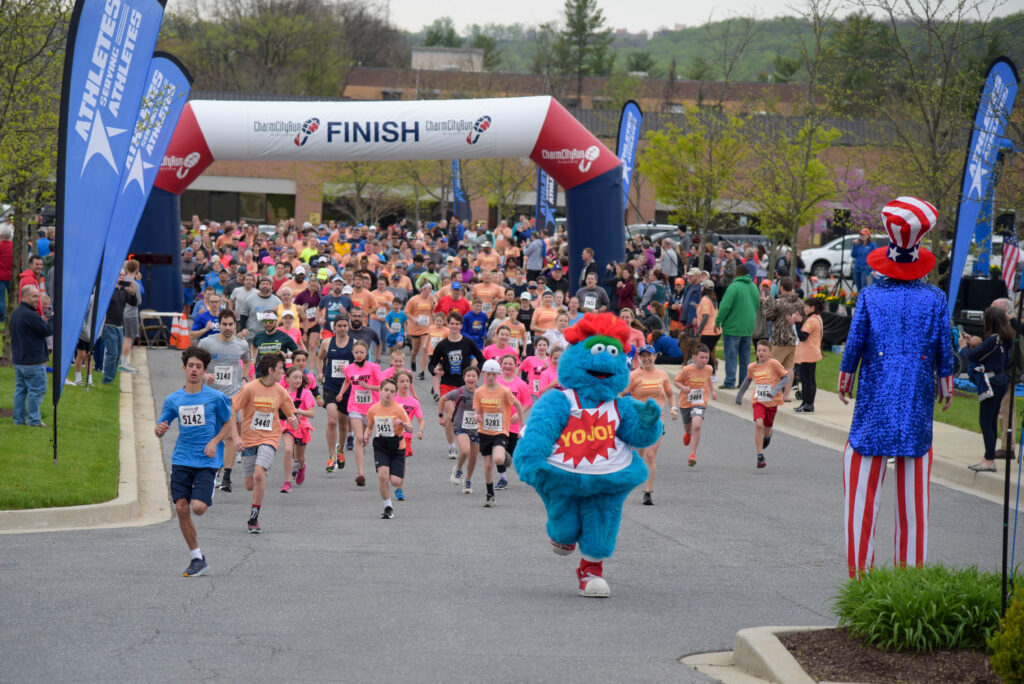 Join us at RunFest 2023 for a day of racing, cheering on our Athletes, enjoying food & drink from Barley's Backyard, and so much more!

Running with a group is always more exciting – Create a Team of friends, family, neighbors, & coworkers to race alongside you and earn cool ASA swag as you fundraise in support of The Wingman Program!
OR
Take the 15th Anniversary Challenge and gather up a team of 15 to help celebrate ASA's 15 years dedicated to elevating the quality of life for individuals with disabilities.
ONLINE REGISTRATION CLOSES 4/19!
Did you see our Summer Newsletter?! Check out all our updates for events, communities, and corporate partnerships!
DON'T Get FOMO: SAVE THE DATE for our FALL EVENTS!
We're gearing up for a busy Fall of fun events for you to enjoy! Come to our Farm, Food, and 'Fun'raising at Bella Vita Farm, our annual Bash which is always a huge hit, and check out our Events landing page for more upcoming events to learn about and support ASA!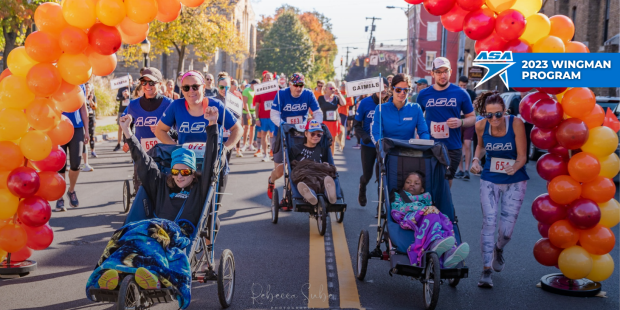 It takes a big team to support our ASA Athletes and empower them to cross the finish line. Wingmen are the runners who volunteer their legs and hearts to help achieve an ASA Athlete's goal of participating in mainstream running events. Wingmen also raise funds and awareness about our program, so that more ASA Athletes can cross the finish line.
You'll make a positive difference in many lives
You'll be empowered to lead a healthy and active lifestyle
You'll gain a connection to a welcoming, supportive community
You'll get to participate in Group Runs with other Wingmen and Athletes
We'll give you your very own custom ASA racing top
We'll provide you with fundraising support through our online giving platform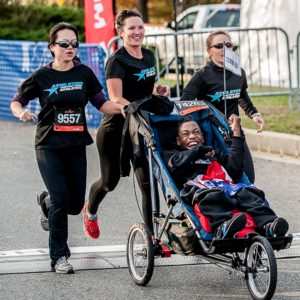 Wingman Program
Learn all about how our Wingman Program works.
THE POWER OF WE
View our movie "The Power of We" and watch The Wingman Program in action!
ABOUT ASA
More about how ASA came about and our vision for the future.
I was desperately searching for INSPIRATION to get back into racing again. I saw that smile and just KNEW I wanted to have fun like him. Who smiles like that in the middle of a race?! James does. Our teams do. I do, since joining ASA.
There are endless opportunities to get involved with ASA. Our community is welcoming, strong, and supportive. It is a truly rewarding organization to be a part of.
I love ASA's "never give up, never quit" attitude. It not only buoys me through difficult parts of a race, but also keeps me going when facing life's challenges (especially this year).
help support the wingman program
Your contributions make it possible for us to  provide our Wingman Program at no cost to the ASA Athletes and Families we serve.
This program includes organized training runs with experienced Wingmen, admission to mainstream running events, access to racing joggers, opportunities to connect with the ASA community throughout the year, and more.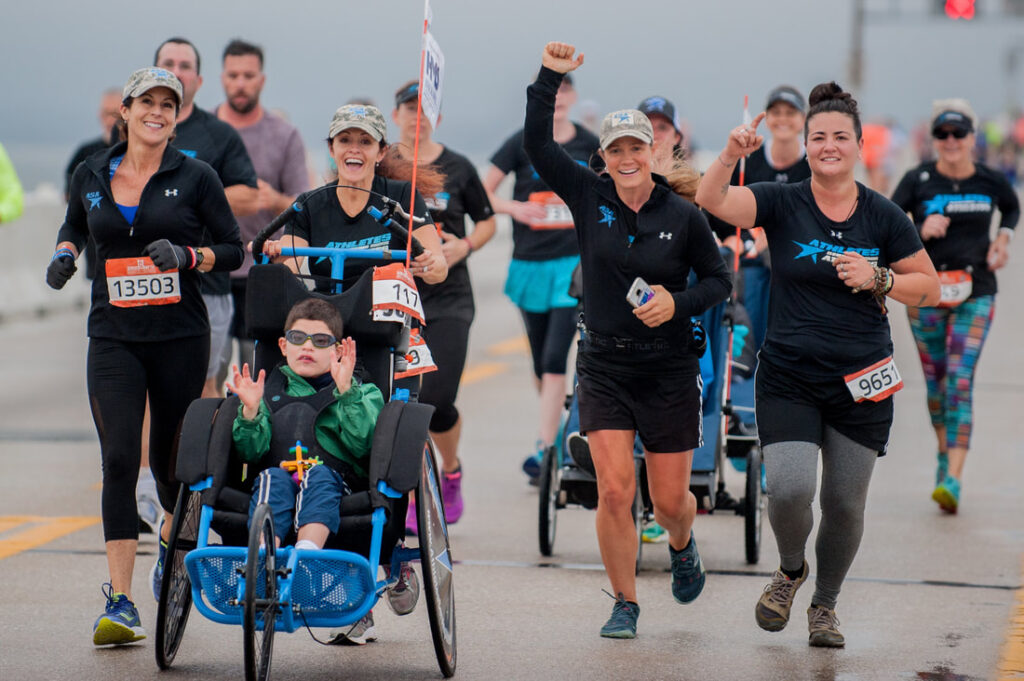 Meet the ASA Athletes we serve and get to know their stories. 
THANK YOU TO OUR SPONSORS