Thank you for joining us for ASA RunFest 2023! You can view the RunFest photo album below, as well as donate to support The Wingman Program. We can't wait to race with you next year!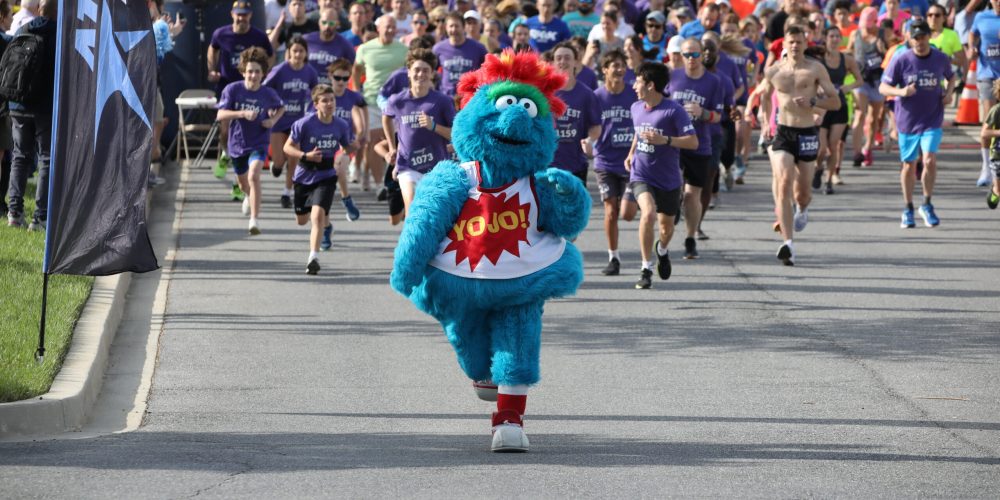 Online Registrations for RunFest 2023 are now CLOSED. If you missed out on registering online this year, don't worry! Check out Packet Pick-up information to find out where you can register in person. You can make a donation below to support The Wingman Program and our Athletes!

Want to volunteer instead of running? Sign up to become a RunFest Volunteer!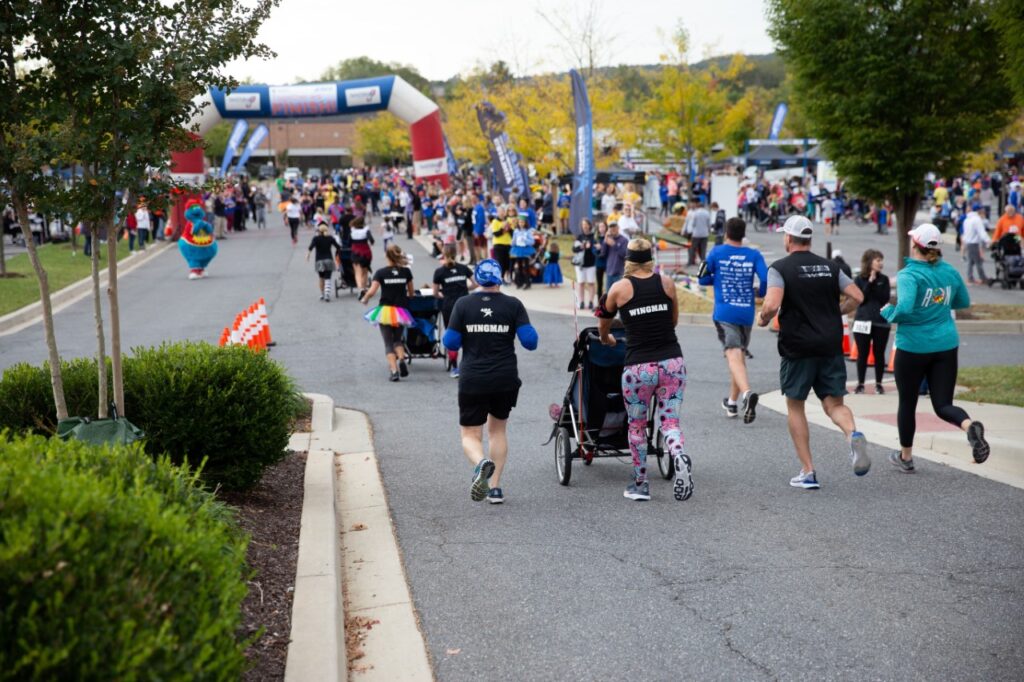 You may register as soon as registration opens all the way up until the day of RunFest. Prices increase leading up to the day of the race, so we encourage you to take advantage of our Launch (ends on 2/14 at midnight) and Early-Bird (2/15 – 3/14) pricing. Race entry fees are non-refundable. 
*Race Day Registration will be available at Friday 4/21 packet pick up locations as well as on site on race day morning from 7:30-8:45 AM.
Online Registration is now closed, but you can still register in person!
*Race Day Registration will be available Friday 4/21 at Packet Pick-up locations as well as on site on race day morning from 7:30-8:45 AM.
TAKE THE 15TH ANNIVERSARY CHALLENGE!
This is ASA's 15th RunFest – now is the time to take the challenge and support The Wingman Program!  Take the challenge as a company, as a neighborhood, as a school, or as a group of friends!  Start your team today and check "Yes, I will take the 15th Anniversary Challenge" on your registration.
"Yes, I will take the 15th Anniversary Challenge!"
Receive the new TOGETHER tumbler when you commit to taking the challenge.
When you hit your team of 15 you will get the BRAND NEW ogio sling back bag with our new logo!
When you reach your $1,500 commitment, you will receive the Cutter & Buck Puffy Coat!
SCHOOL / Club COMPETITION
The high school teams with the most members AND the team that earns the highest fundraising amount for RunFest will each win a pizza party!
Email Julie to learn more or officially register your high school team with RunFest.
Racing is more fun with friends by your side, so why not take your registration a step further and start a RunFest Team?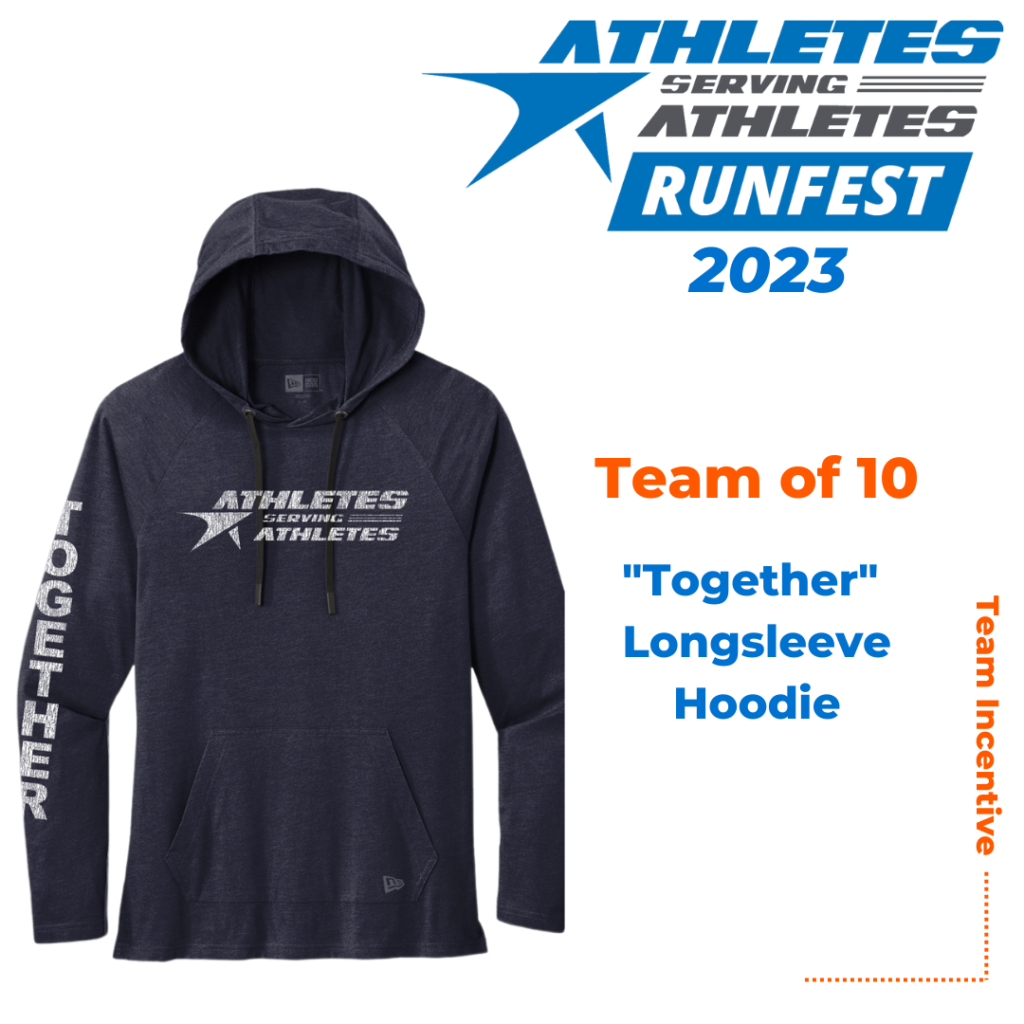 Team Captains will get the BRAND NEW ASA "Together" Longsleeve Hoodie once their team reaches 10 people.
Not only is racing at RunFest a great way to support ASA, but so is fundraising for our Wingman Program leading up to race day. 
When you raise $1,000 – you will earn both the Northface Performance full zip jacket AND the sherpa blanket with ASA's new logo!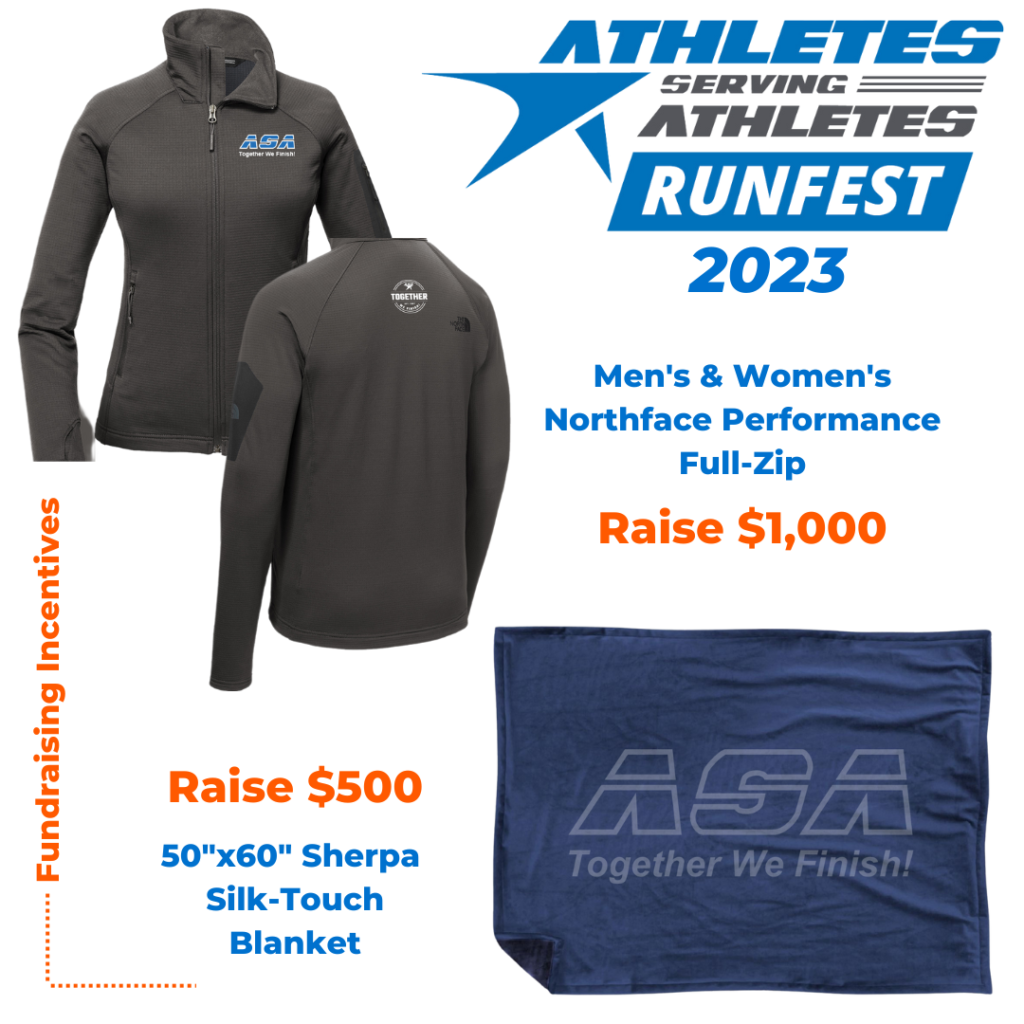 RACE DAY SCHEDULE & INFORMATION
RUNFEST IS A RAIN OR SHINE EVENT!
Click below to view available parking prior to your arrival at RunFest.
7:30 AM —RunFest Opens (including race day registration & packet pick up)
8:30 AM —Village, Games, & Food Stands Open
8:45 AM —Race day registration & packet pick up close
8:55 AM — ASA Athlete Runnel!*
9:00 AM — 5K Start
9:05 AM — 1-Mile Start
10:00 AM — Kid's Fun Run
10:15 AM — Awards Ceremony
*For the Athlete Runnel, please plan on lining both sides of the start shoot to cheer on the ASA Teams as they start the race. We will then line up the rest of the 5k participants, followed by 1-mile participants.
FAMILY FUN FESTIVAL DETAILS
Family Fun Zone — Games, Crafts, Face-Paint, Inflatables
Barley's Backyard — Food & Adult Drinks (Both Cash & Credit Accepted)
ASA Store (Both Cash & Credit Accepted)
ASA Information Tent 
Donation Stations (Both Cash & Credit Accepted)
Music Stage
A first-aid tent will be located by the spot-a-pots for anyone needing basic first aid supplies.
Keep an eye out for our Orange Hat Crew: Anyone wearing a neon orange ASA hat will be available to assist you throughout the event.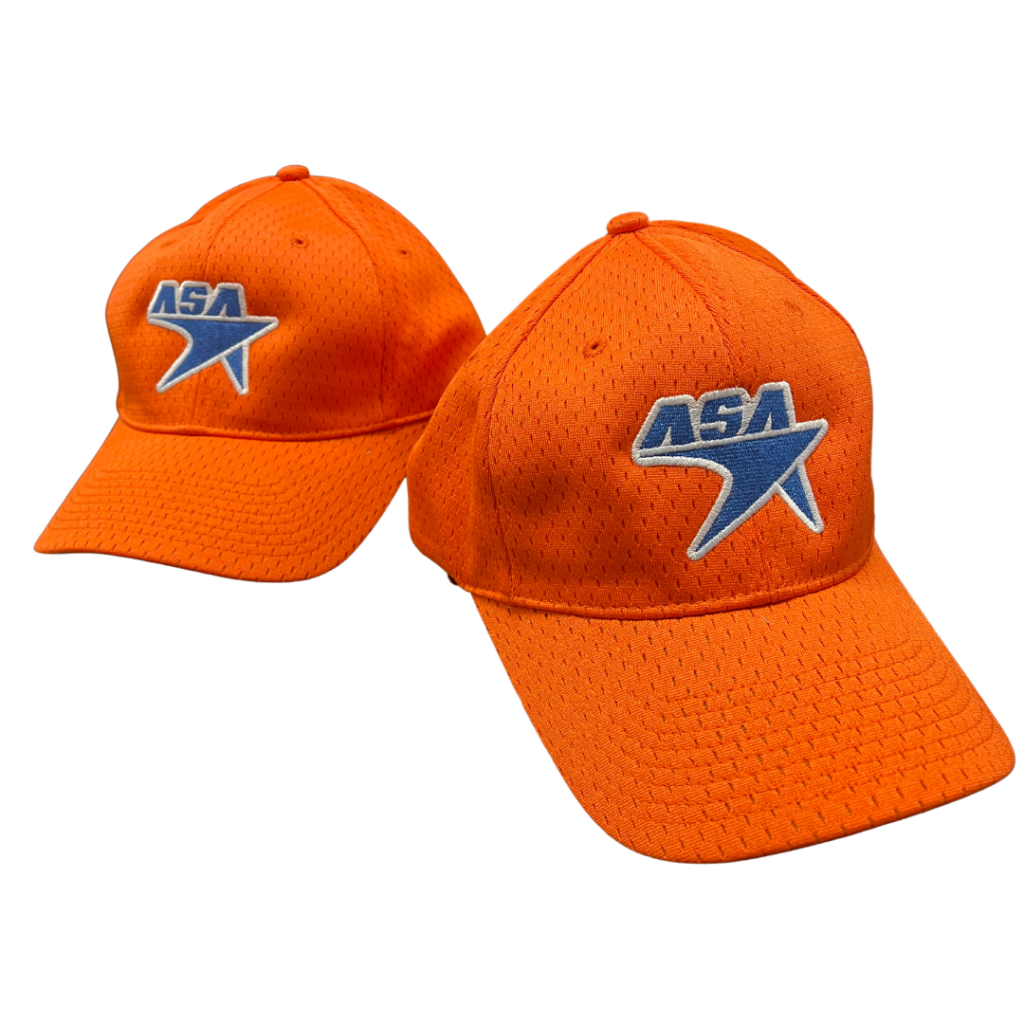 If you become separated from your child, find a member of the Orange Hat Crew for help or come to the stage to have an announcement made.
Parents must sign an inflatables waiver before your child(ren) play on the inflatables. Waivers will be available on-site at the inflatables station, or you may click below to print and complete the waiver prior to arrival.
FAMILY FUN FESTIVAL BEGINS
Kids Zone, ASA Shop, Food, Drinks, & Music
Announcements & Warm-Ups at 8:45, ASA Runnel at 8:55. 5K & 1-Mile starts to follow.
DJ stand will announce Kid's Fun Run instructions
Learn More about awards & prizes below! 
Whether you join in on the festivities as soon as we open at 9 AM or after you cross the finish line, we can't wait to celebrate with you! This year's festival portion of the event will include a post-race party and awards ceremony, food, drinks, music, and fun and games for all ages.
Games, crafts, face-painting, inflatables, and more await in the Family Fun Zone!
It wouldn't be a proper ASA event without Food & Drinks by Barley's Backyard! Kids will get a FREE snowball and popcorn from Barley's Backyard as well!
Stock up on all your favorite ASA gear from joggers to shirts, hats, sunglasses, and more! 
The awards ceremony will take place at the Family Fun Festival after all racing and walking events have concluded. Awards will be presented for the following categories: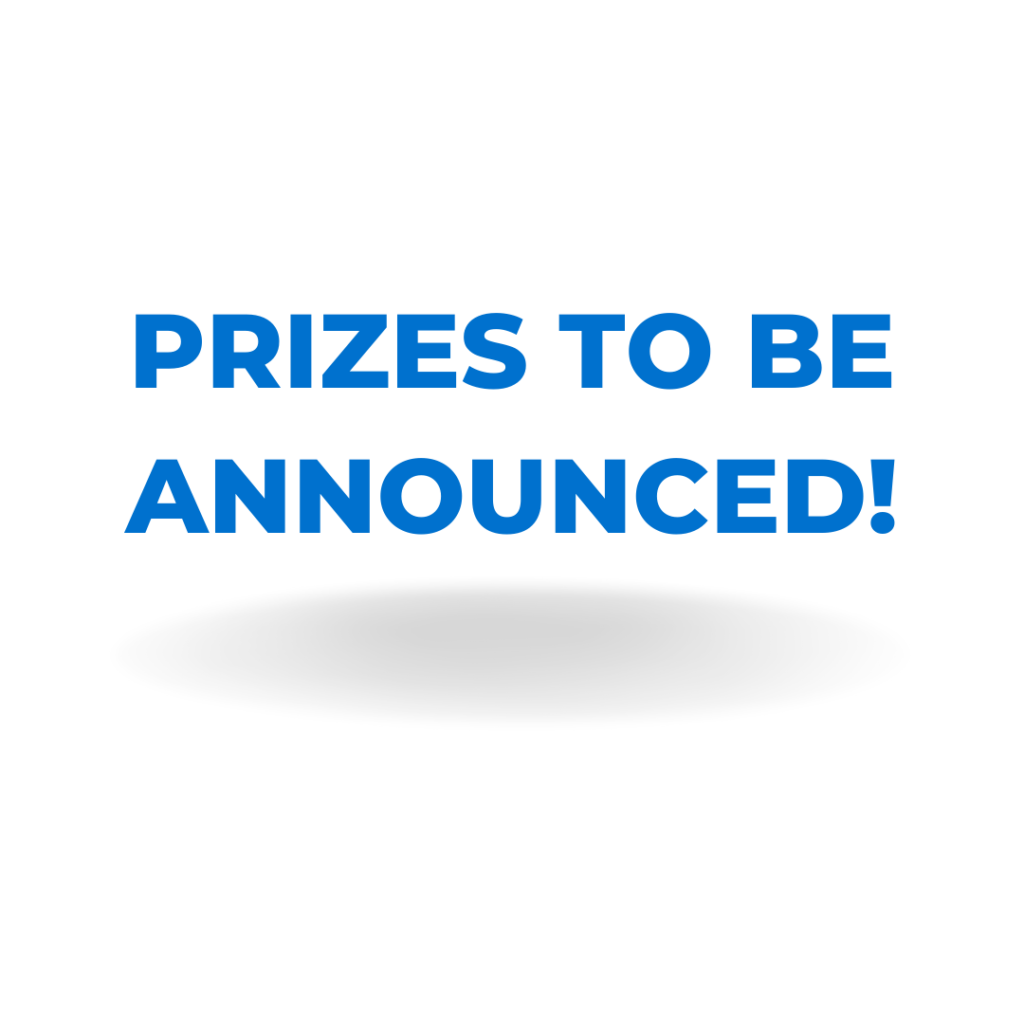 1st, 2nd, and 3rd place overall Male, Female, and Nonbinary winners plus 1st and 2nd place winners in age group will receive an ASA swag bag and ASA bucks to purchase items of your choice at our shop!  
Winners will be selected from each age group in the Men's, Women's, & Nonbinary categories. Participants must race in-person (not virtually) in order to be eligible for awards.
Age groups include: Under 14 | 15-19 | 20-29 | 30-39 | 40-49 | 50-59 | 60-69 | 70+

Prizes will be awarded to the Top 3 Largest Teams.
(Prizes to be Announced)
Prizes will be awarded to the 3 Teams that Fundraised the most. 
(Prizes to be Announced)
CHECK OUT THIS YEAR'S RUNFEST T-SHIRT!
SATURDAY, APRIL 22 (RACE DAY)