ASA SPOTLIGHT: MYLES RAUPP
ATHLETE SPOTLIGHT
Join us each month as we interview and feature members of the ASA Community! This month, we're shining the spotlight on ASA Athlete Myles Raupp!
Tell us a little more about yourself. What would you like readers to know?
Myles is an adventure seeking 15 year old! He loves to travel, hang out at the beach, and will try anything at least once. He has been water-skiing, snow-skiing, jet-skiing, kayaking, rode roller coasters, learned archery, went horseback riding, gone sailing, fishing, and surfing, and has even tried rock climbing in the short 15 years he's been around. He truly doesn't let his disabilities hold him back and he always does it with a smile.
What drew you to ASA? When did you start?
When Myles was little, he had better strength in his lower extremities – he participated in fun runs and even participated in a triathlon for kids with disabilities with the assistance of a walker. Unfortunately, as he got bigger and endured yet another hip surgery he was unable to stand on his feet for long periods of time and he aged out of fun runs. This is what drew us to ASA. We started back in February when a friend of ours asked if she could push Myles in a few races through a running group she had just joined in Fairfax – ASA!
What do you love most about ASA?
ASA has given Myles the ability to race again! He loves it! He also gets to participate alongside his friends and sometimes family members. He loves the hype that the races bring, he loves going places… fast! He loves being around the cheering and the people and being a part of a team.
Tell us more about the people you have met through ASA.
ASA has allowed us to meet other families with similar lives and experiences as ours. It has also has connected us with runners that make Myles so happy to be out on the course again.
What is your favorite part of race day?
The hyping up and excitement leading up to the start of the race. Hearing the cheers for Myles and his team at the start line and the finish line. Seeing Myles' face light up when he sees his team at the start of the race and the big smiles he gets getting his medal at the end.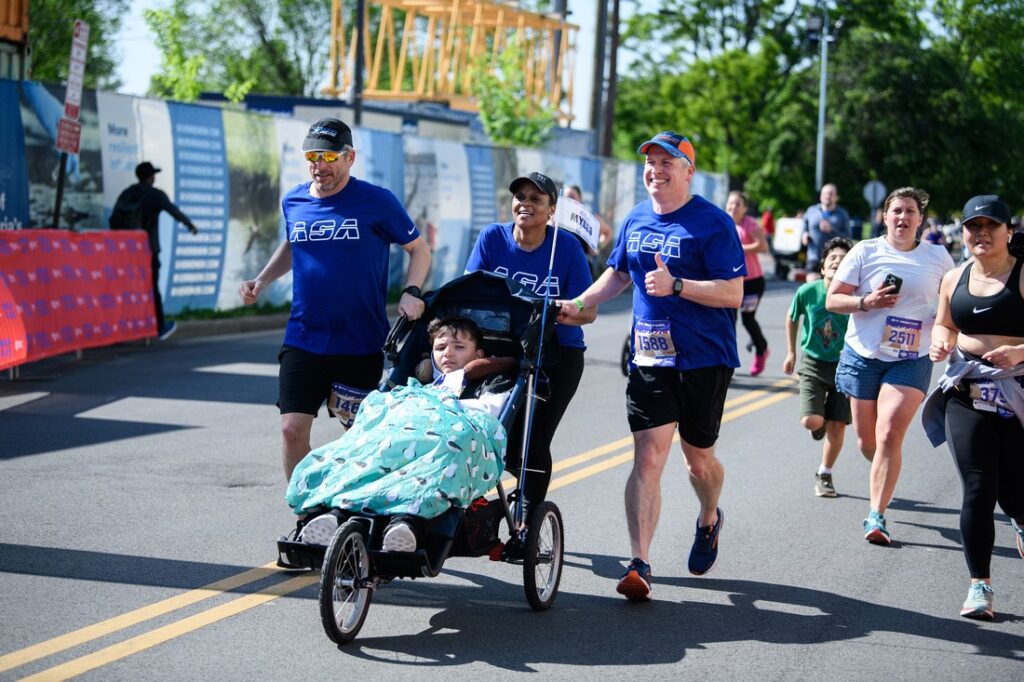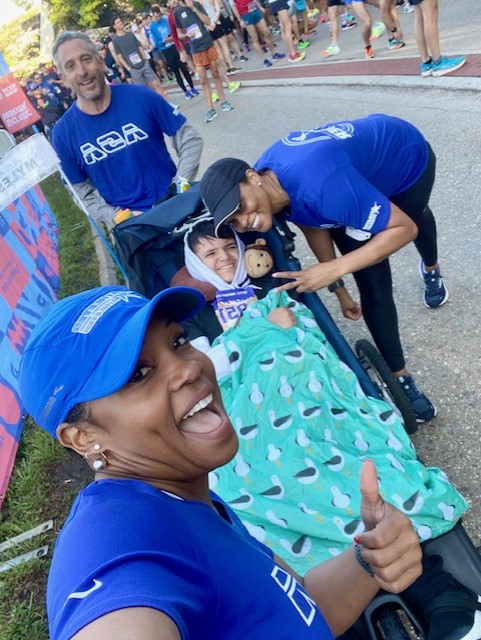 What is your best ASA story to date?
Since we have joined ASA anytime we get to a run, whether it be for a group run or an actual race he always wants us to leave! It's his time to shine. You see when Myles was born I was basically told that Myles would always need me. Myles has proved them wrong, and he likes to remind me at every run by telling me with a smile, "BYE MOM!"