ASA SPOTLIGHT: SHAUNNA MCBRIDE
ATHLETE SPOTLIGHT
Join us each month as we interview and feature members of the ASA Community! This month, we're shining the spotlight on ASA Athlete Shaunna McBride!
Tell us a little more about yourself. What would you like readers to know?
Hello, my name is Shaunna and I am 16 years old. I cannot speak but I can communicate with my smile and squeal-y sounds. I use a walker to get around and I am working hard on trying to walk by myself. I have a rare genetic syndrome called 1P36 deletion syndrome. I have lots of therapies such as speech, OT and PT and special education to help me grow. I have come so far with hard work and continue to thrive with my village of people that motivate and encourage me. I like to be silly and tickle people or laugh at giggly babies. I am an awesome spinner. My favorite vacations are at the beach sitting by the surf and feeling the wind, watching the waves letting the water surround me.
What drew you to ASA? When did you start?
We started ASA when Shaunna was 9 years old. I like to run and used to push Shaunna in a jogger but she got too big and I was too slow for her to feel the wind. I knew a little about ASA but did not follow up because they trained at the NCR trail which seemed too far away to juggle after work.
I met Terrence's Mom, La'kesha in the spring of 2009 at a Grace Church respite. La'kesha saw that I went running during this break time and she told me about the new ASA Baltimore City Community running at Patterson Park. I was so excited that this was closer to our home and it was perfect timing for me to find a social activity that we both could participate in and enjoy. Most special needs families struggle finding inclusive, accepting groups to participate in as our children get older.
What do you love most about ASA?
There are so many things to love about ASA, it's hard to pick just one. It is a happy space in the universe of special needs children. We love our training runs at Patterson Park and getting to know the Wingman volunteers and their stories. We become friends in an hour. It is such a warm engaging diverse group of people of different ages and vocations who all come together for one cause. They make Shaunna and the other Athletes feel special and "seen" in such a casual normal way. The focus is on having fun while participating in running. We run around the park blending in with the city social scene. Shaunna especially likes the hills, bumps and faster pace! She has made friends with other Athletes we would have never met without ASA. 
The actual races are exciting and fun; Shaunna loves the cheers from other runners especially when they call out her name.
Tell us more about the people you have met through ASA.
There are so many people that we have met through ASA in the past 10 years. We have participated in Harford, Anne Arundel, Baltimore County, and Baltimore City runs so we have met a variety of Wingmen and Captains. After the runs we get to socialize with the parents and Wingmen and share stories. Many of us are experiencing similar journeys and can help support each other. We have also been able to go to Ravens Training Camp through ASA. That was a big highlight, having the coaches and players interact with Shaunna and the other Athletes and making them feel special.
What is your favorite part of race day?
For Shaunna the best part is the actual race and moving! She loves the speed and the wind and the cheers from the other runners.  She just loves participating and being outside!
For mom, the best part of race day is probably the beginning and the end. There is a lot of hustle and bustle and stress pre-race getting sorted out, but once that is over and we line up prior to the race and are all together, it is such a happy feeling and sight to see. So much energy and joy compressed together. It is amazing to see all the people and effort that it takes for race day and they are all happy at 6 am! 
Then at the end we can all relax and celebrate another accomplishment.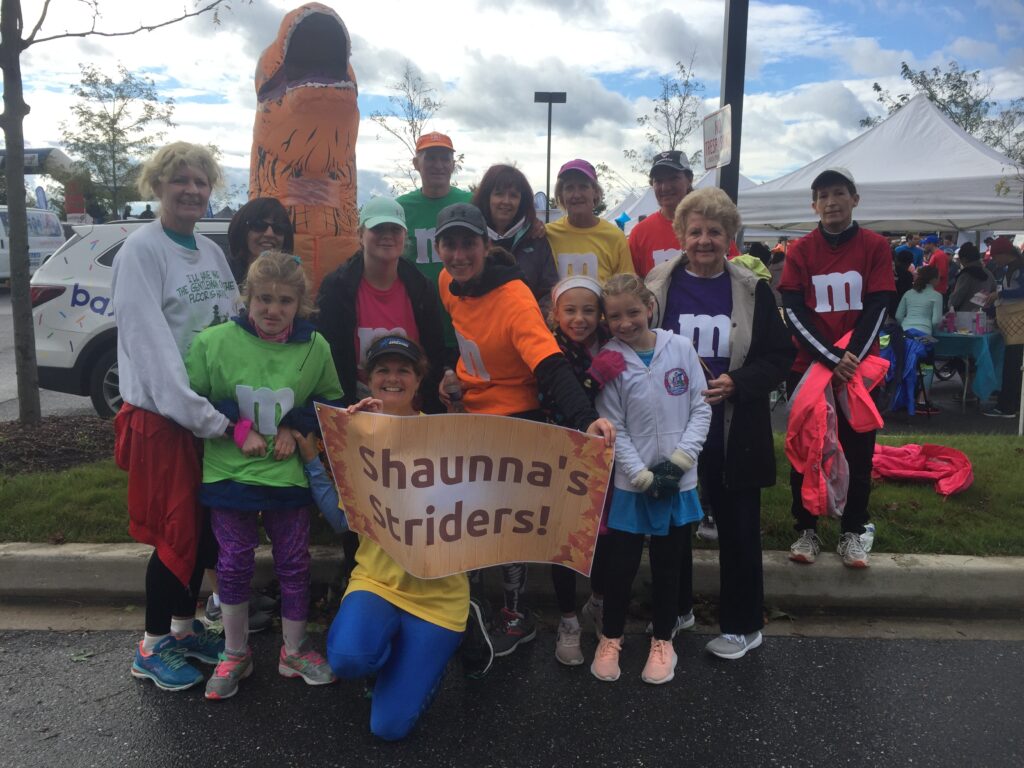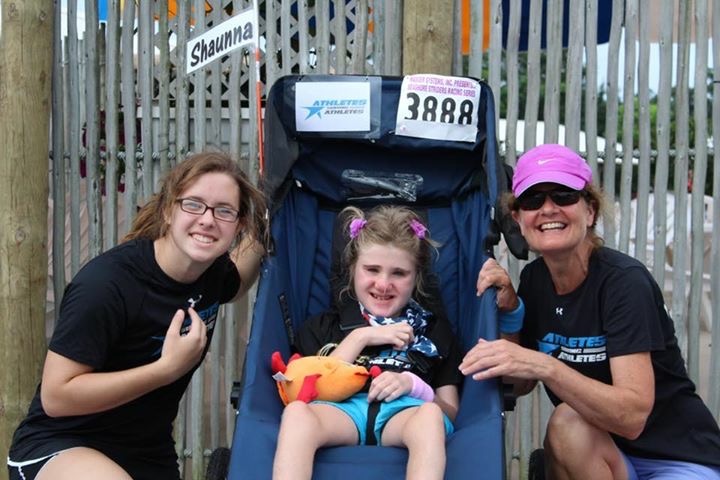 What is your best ASA story to date?
Best ASA story to date is probably our most recent run: The Bay Bridge Run 2022! I heard it was one of the favorite runs of ASA and we finally signed up in 2021. I knew Shaunna would love the bridge vibrations and wind at the top. Unfortunately, we both got COVID 3 days before the race and had to cancel.  It was a long road to return back to running and after the pandemic you don't take anything for granted.  Everything was always tentative up until the race day. When we finally made it to race day healthy and we were both able to participate together, running across the bridge with a relaxed wonderful team was so wonderful. The Bay Bridge and ASA did not disappoint. I got to see and hear Shaunna laugh and giggle through the bumps and wind and cheers. I was grateful!!! We could not have had this experience without ASA.