ASA SPOTLIGHT: TERESA MESKEY
WINGMAN SPOTLIGHT
Join us each month as we interview and feature members of the ASA Community! This month, we're shining the spotlight on ASA Wingman Teresa Meskey!
Tell us a little more about yourself. What would you like readers to know?
I just took a job as a middle school science teacher, which I'm pumped about. I have two amazing daughters, and I'm a fan of the Baltimore sports teams (I fan-girled hard when we got to go to Ravens training camp)!
What drew you to ASA? When did you start?
Sole of the City in 2014 — it's probably my favorite race.
I was running and then two guys in kilts pushing a jogger ran past me. I knew immediately that it was something I wanted to do.
I read their shirts, looked up ASA, and the next month I was running as a Wingman in my first race with ASA: the Maryland Half Marathon with Team Gabriel.
What do you love most about ASA?
The Athletes, of course! It's just so much fun to run with them! Leah giggles the whole time, and Kyle and I sing Frozen duets. They're just so fun to be around.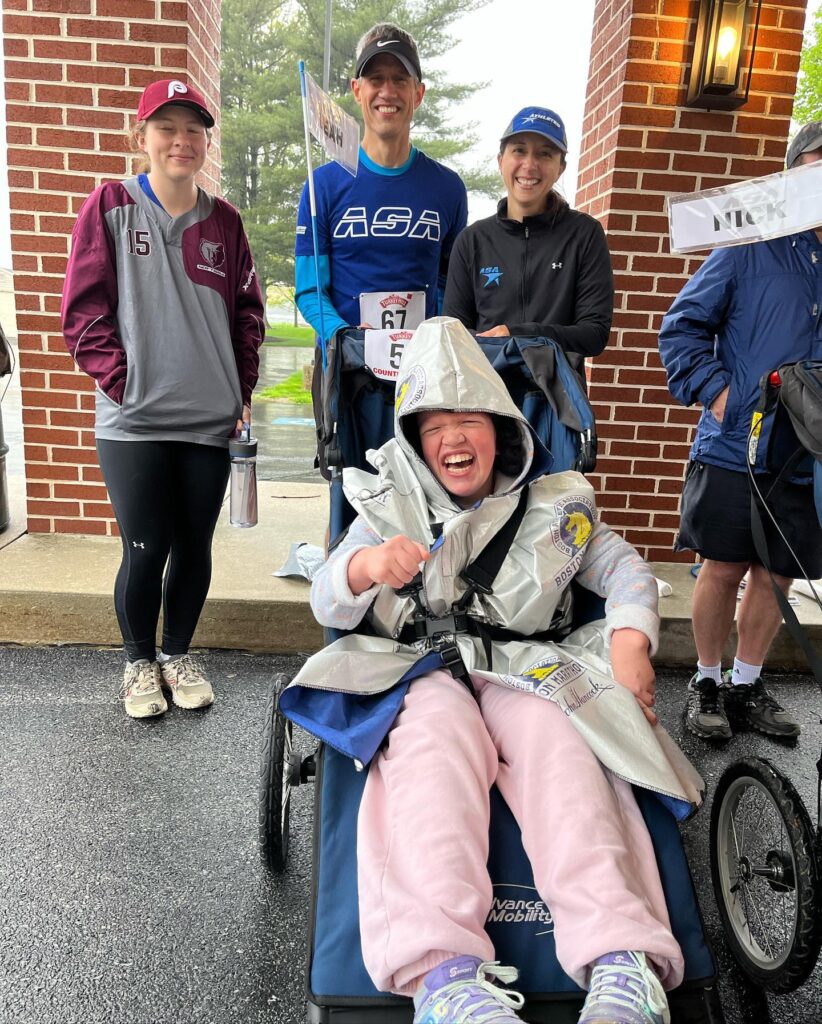 Tell us more about the people you have met through ASA.
One time I was running as a Captain and checked in with my Wingmen about their paces… only to later find out that my Wingman literally went to the Olympic marathon trial (yes, it's Hannah).
That's what's cool about the people you meet through ASA. It doesn't matter where we are as individual runners. We come together as a team and run for our Athletes. 
What is your favorite part of a group run?
Group runs are just laid-back and comfortable. We're just a bunch of friends meeting for a training run!  
What is your favorite part of race day?
Probably the cheer that we give to the athletes right before we head to the starting line. That always hypes me up so much! And of course, crossing the finish line is always an amazing feeling.
What is your best ASA story to date?
When I was tent manager at the Cinco de Miler in 2019, it was POURING down rain… and that race goes on trails and across a beach.
It could have been awful, but our teams decided to just embrace it and make the best of the situation. Everyone was so positive and had a sense of humor about the whole thing, and the camaraderie was probably the best I've ever seen during a race. It was a fun, ridiculous day!